LMBA Community Tournament Registration
---
ALL AGE GROUPS ARE NOW FULL.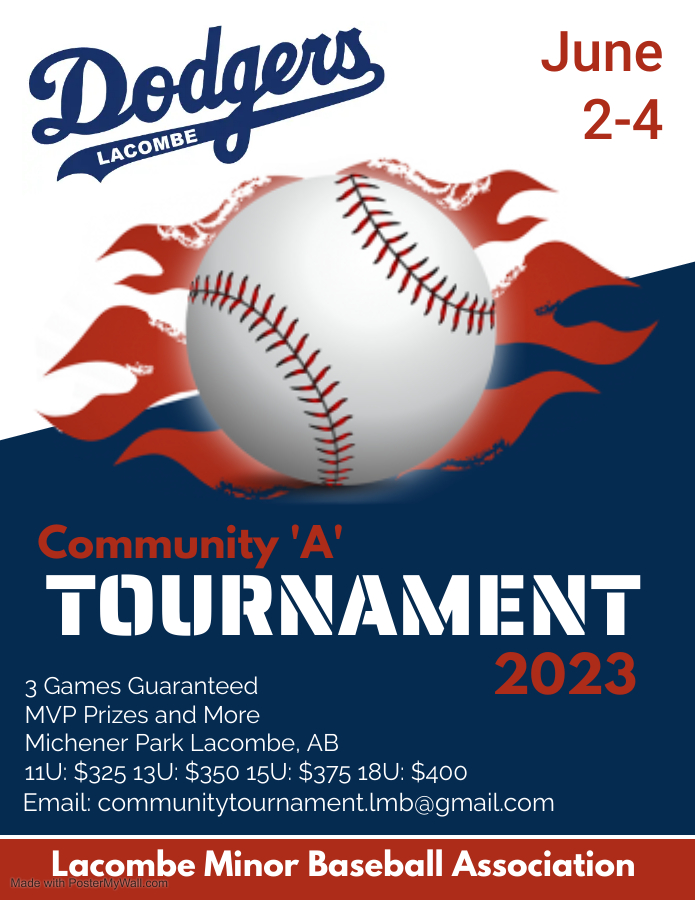 2023 Lacombe Minor Baseball Association
Annual Community Tournament at Michener Park, Lacombe, AB

Dates: June 2, 2023 - June 4, 2023

2023 Registration Fees:
Non-LMBA Team
$325 U11-A
$350 U13-A
$375 U15-A
$400 U18-A
LMBA Team
$162.50 LMBA U11-A
$175 LMBA U13-A
$187.50 LMBA U15-A
$200 LMBA U18-A
New This Year - Lacombe Teams - You must register to confirm your participation in this tournament.
Registration will open April 8, 2023, at which the FORM link will be active.
Registration will not be accepted prior to this time. Rosters need to be submitted at time of acceptance into the tournament.
Accepted teams in the tournament will be notified by email on or before May 8, 2023.
Any further tournament inquires may be directed to the tournament coordinator at communitytournament.lmb@gmail.com
Host Hotel: Best Western Plus Lacombe Inn and Suites
Tel: 403-782-3535 Direct Email: sales@bestwesternlacombe.com
As a sponsor for Lacombe Minor Baseball this hotel is conveniently located immediately across from the diamonds. There is a room discount for participating players / teams and your booking includes a hot breakfast and swimming pool access! More information can be found HERE