Return to Baseball UPDATE - June 10th, 2021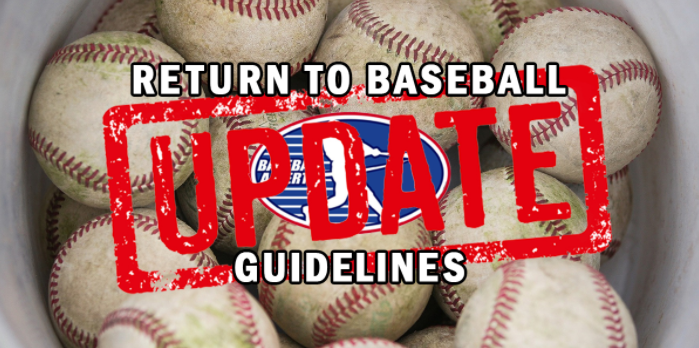 June 10th, 2021 UPDATE
Stage 2 Restrictions for Youth + Adult Sport
Restrictions coming into effect on June 10th

Eligible participants include:
Youth 18 years old and under
Adults 19 years old and older.
Members of a collegiate or university athletic program, if over 18 years old
Coaches or trainers
Officials
All indoor and outdoor sport and recreation activities are permitted provincewide, including:
Team sports
Group practices or training
Games, competitions and league play
Gameplay + Practices will be played without any modifications
Physical distancing is not required during game play or a sport practice, but is required outside of play/practice area. Participants must maintain 2 metres of physical distancing when outside of the play/practice area.
Additional Baseball Alberta Gameplay + Practice Safety Recommendations
Masking is strongly recommended for:

Coaches

If you cannot maintain physical distancing of up to 2m (eg. In the dugout)
When engaging with players or umpires

Umpires

If you are an official working behind home plate
When engaging with coaches or players

Players

When you are in the dugout

Coaches must be in possession of a mask at all times. Umpires may insist that coaches have a mask on when approaching them.
Spectators
Spectators can attend indoor and outdoor physical activities and performances:

1/3 venue capacity for indoor activities (arenas, theatres) and for outdoor fixed-seated (grandstand) events
150 people maximum for non-fixed seated events (this limit includes spectators, athletes/performers, production teams, referees and coaches)
2 metres of physical distancing must be maintained at all times between different households
Equipment
Organizers should ask participants to bring their own equipment/materials, where feasible.
If the organizer is providing equipment or materials, they should minimize the shared use of equipment/materials, and, if possible, assign specific equipment/materials to each attendee.
For sports/activities that require shared equipment to be handled (e.g., shared baseballs), participants need to perform hand hygiene before and after the activity.
Indoor fitness and recreation facilities
Indoor recreation facilities (such as arenas, indoor wave pools, children play centres, bowling alleys and rec centres) can open at 1/3 of fire code occupancy.

Check with your local facility for these numbers

Gyms and fitness studios can open for solo and drop-in activities, one-on-one training, and indoor fitness classes.
Additional safety measures include:

Trainers and instructors may be able to come within 3 metres distance of a client/participant for brief moments to correct form or help demonstrate. However, they must be masked during the interaction and sanitize hands before and after.
Masking is still required when not engaging in the fitness activity
Youth day and overnight camps
Camps can operate with cohorts of 50 or fewer participants.

Cohort is a group of participants and staff who stay together for duration of camp
Camps can have multiple cohorts (no capacity limit) but cohorts must be separated at all times
What to do if you have a positive COVID-19 case or are a close contact of a positive case?
CONTACT 811 IF YOU HAVE A POSITIVE COVID-19 CASE OR ARE A CLOSE CONTACT FOR FURTHER DIRECTION AND NEXT STEPS FOR YOUR TEAM.
*Please note: Baseball Alberta insurance will only be valid for all baseball activities that follow the current public health measures and for participants who are registered with their local Baseball Alberta Association. The required waiver forms for players are included in the RAMP registration set up. For Associations not using RAMP as their main registration platform, please download the appropriate waivers from the Baseball Alberta website.
ALL participants (coaches & players) must sign:
Return to Baseball Questionnaire and Attestation
Waiver / Acknowledgement of Risk (17 & Under) to be signed by parent or legal guardian
Waiver / Acknowledgement of Risk (18 & Older) to be signed by player or coach
Individual Contract Tracing Log - to be completed within 4 hours of start of session.
Association Contract Tracing Log - to be completed by responsible adult for each session.
Associations must collect and store all forms as well as track all individual and group sessions using the Contract Tracing Logs.