A MESSAGE FROM THE LMBA EXECUTIVE
January 23, 2021
The LMBA Executive will be hosting their 2021 Annual General Meeting (AGM) on Wednesday, February 10th, 7:00pm virtually using ZOOM. Everyone in attending the Zoom meeting will receive a $25.00 discount off of their child's registration fee if they are registered within a week following the AGM. Online registrations will not open until after the AGM on February 10th.
Holding true to previous AGM's, there will be a call for nominations to fill vacant Executive Board positions. An agenda and Zoom meeting invite will be sent out prior to the meeting.
Currently, the LMBA does not have a clear picture from the Province regarding when or how our 2021 season will play out. LMBA is hopeful for any version of a season either pre-pandemic or the new modified version of baseball with Covid protocols.
Thank you everyone for your patience and we all look forward to returning to the Diamonds this year!
---
Return to Baseball UPDATE - December 8th, 2020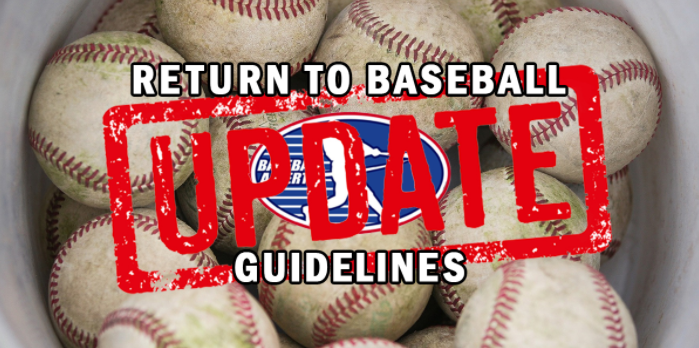 To view the official Return to Baseball Document click HERE
---

Baseball Alberta's Response to Novel Coronavirus (COVID-19)
April 15, 2020 UPDATE
The Baseball Alberta Board of Directors has made the decision to extend the suspension of ALL sanctioned Baseball Alberta in-person events until June 1, 2020. The Board will continue to meet on a regular basis to re-evaluate the situation as information becomes available, and will provide further updates following these meetings.
APRIL 6, 2020 UPDATE
Baseball Alberta recognizes that the original roster deadline of April 9th is not applicable in our current situation. We would ask that you please submit ALL team entries by midnight tonight and once we have further information on the status of the 2020 baseball season we will work with Associations to ensure we have the most up to date rosters prior to play.
MARCH 20, 2020 UPDATE
Baseball Alberta is suspending all sanctioned activities until April 30, 2020.
We have been in discussions with Baseball Canada and the other provinces regarding the impact of the COVID-19 on the upcoming 2020 baseball season. We have been collectively considering the best information available from our national and provincial health authorities on how best to manage activities in this unprecedented time. Baseball Canada has advised that all sanctioned baseball activities are suspended until at least April 30, 2020.
Specifically, Baseball Canada has postponed or cancelled the following four events on the pre-season calendar:
NCCP Competition-Development Coach Workshop, Florida
Junior National Team Spring Training, Florida
National Umpire Committee Meeting, Toronto
National SafeSport Meeting, Ottawa
Baseball Canada is investigating options to deliver NCCP coach clinics online. We will share more information on this as it becomes available.
The term "sanctioned" is an important term that we use in these communications as it pertains to our sport insurance policy. Please note that any Member that chooses to continue with baseball related activities during this time would be doing so unsanctioned, at their own risk, and without insurance coverage in place. This would also apply to athletes participating in private training activities outside the programs of our Member Associations.
All in-person Baseball Alberta League meetings are cancelled as part of the suspension of sanctioned activities. However, we are looking at options to conduct our pre-season league meetings in April via conference call.
Baseball Alberta recognizes that this decision will result in many questions regarding the status of the 2020 house league / community and competition seasons. While we do not have all the answers to these questions, Baseball Alberta is working with its members and peers to determine the best path forward with protecting the health and safety of our participants - players, coaches, and umpires - as our highest priority.
Please stay tuned to our website for further updates as they are available.
MARCH 17, 2020 UPDATE
Effective March 17, 2020, the Baseball Alberta office will be closed to public access. The Baseball Alberta staff will be working remotely and continue to be available to be contacted by the membership during regular office hours. The staff will have access to email during this time as well as the ability to be contacted via voice or text at the following numbers:
Brendan Smith, League Coordinator: 780-975-1401
Ryan Bird, Program Coordinator: 780-975-1401
Tam Rosnau, Operations Coordinator: 780-975-8424
Darren Dekinder, Executive Director: 780-914-6494
The current COVID-19 outbreak has significantly curtailed businesses across the province and introduced uncertainty into many businesses including ours. The Baseball Alberta Executive has determined that it is prudent at this time to conserve cash resources and encourages our members to review their respective budgets for opportunities to reduce costs for the 2020 season. We are reviewing the Baseball Alberta budget to ensure that we remain financially sound and are able to support our members through this difficult time. We would also announce that one program that we will be suspending for the 2020 season is the 2020 Facility Grant Program.
We want to thank all members who have submitted their team entries for the upcoming AAA season. We are working on schedules and will be sending out draft schedules for the respective age categories for our coaches to review as soon as we are able.
We are proceeding with our AA team entry deadline of April 6. However, we will be extending the AA roster deadline for Initial Roster submission to Tuesday, April 21 at noon to address the fact that most Associations have had their team selection process disrupted by these events. This deadline may be further extended as this situation evolves.
We are using the best available information that we have today to be able to project a possible start date for the season, but ask all of our members to recognize that the nature of this outbreak is unpredictable and may necessitate changes to the normal start of the season in May.
Please stay tuned to our website for further updates as they are available.
MARCH 13, 2020 UPDATE
As of Friday, March 13, 2020, Baseball Alberta is suspending all sanctioned activities until April 6, 2020.
A decision on sanctioned activities beyond April 6, 2020 will be communicated by April 3, 2020 at 4:00pm via our website and social media.
Sanctioned activities include evaluation camps for all Teams Alberta including the scheduled evaluation event for the Canada Cup team, all player clinics and camps, all NUCP Umpire Clinics, all NCCP coach clinics, and all Baseball Alberta League meetings.
There have been many media reports in recent days regarding the risk of the novel coronavirus (COVID-19) and the World Health Organization declaration of a pandemic. Baseball Alberta recognizes the seriousness of this situation and we want to reassure our members that we are committed to the health and safety of all baseball participants. The most current information on COVID-19 can be found on the Alberta Health Services website at https://www.albertahealthservices.ca/topics/Page16997.aspx.
Alberta Health Services provides the following recommendations to prevent the spread of the virus.
To help protect you and your family against all respiratory illnesses, including flu and COVID-19, you should:
Wash your hands often and well
Avoid touching your face, nose, or mouth with unwashed hands.
Avoid close contact with people who are sick
Clean and disinfect surfaces that are frequently touched
Stay at home and away from others if you are feeling ill
Contact your primary health provider or Health Link 811 if you have questions or concerns about your health
When sick, cover your cough and sneezes and then wash your hands
Are other Baseball Alberta members' activities being suspended?
Baseball Alberta Member Association activities such as player evaluations for team selection for the upcoming season are recommended to be suspended as well. Please contact your local Association for specific details on their events.
Is the 2020 Baseball Alberta league season being cancelled?
Baseball Alberta is not cancelling the 2020 season at this time. The scheduled start of the season in May 2020 is several weeks from today and expected to be able to proceed. However, this is a fluid situation and we will be reevaluating our plans for the upcoming season as more information becomes available.
What is Baseball Alberta recommending to help prevent the spread of COVID-19?
In addition to the Alberta Health Services recommendations noted above, Baseball Alberta recommends the following:
Members are asked to evaluate any hygiene practices involving shared equipment.

Recommend that batting helmets are not shared.
Recommend that catcher's gear be wiped down with antiseptic wipes after each game or practice or change of user.
Recommend that players wear personal batting gloves when using team bats that are shared between players.
Ask players to minimize practices such as licking their fingers and spitting in their gloves as a way to minimize saliva contact with the baseball.
Ensure players wash their hands after baseball activities. There is nothing that we really can do about reducing direct contact with the most common object that all participants will touch … the ball, but we can ensure that we wash our hands after contact with the ball at tryouts or practices.
What do I do if I am already registered for a Baseball Alberta sanctioned activity?
Please contact the Baseball Alberta office if you are choosing to withdraw from a Baseball Alberta event that you have registered for and we will be happy to provide a full refund. In addition, if we are unable to reschedule an activity, we will be providing full refunds to participants that have already paid. This may include the upcoming Girls Baseball Clinics planned for Calgary and southern Alberta.
Baseball Alberta would again reiterate that this is a very fluid event and subject to changes in approach as new information becomes available. We will be updating our website and social media with information if we have changes to communicate.